---
The eldest of two sons born to a truckdriver father and charwoman mother living in an Edinburgh, Scotland, tenement, Thomas Sean Connery started helping support his family by delivering milk at the age of nine. Steady education was a luxury he could barely afford, and he eventually left school at the age of thirteen, first taking jobs as a laborer, steel bender, and cement mixer, and then, at 15, enlisting in the British Royal Navy for what was to have been a 12-year stint. Severe stomach ulcers brought about his discharge within three years, at which point he returned to Edinburgh and set about making his living working different jobs, such as a bricklayer, lifeguard, and coffin polisher. Connery occupied his off-work hours by bodybuilding, a pastime that eventually paid off handsomely when he began earning a bit of extra money posing for art classes and swimwear photo shoots. His painstaking efforts to develop his physique gave him 3rd place in the 1950 Mr. Universe contest.
---
While in London competing in the Mr. Universe contest, Connery auditioned for and won a part as a singing sailor in the chorus of a year-long touring production of South Pacific. When asked how he wished to be billed for the musical, the unlettered, untried actor, who went by his boyhood diminutive of Tommy, settled on the marquee-worthy name Sean Connery. Though he had stumbled into acting on a whim (his real career aspiration at the time was to become a professional soccer player), subsequent intensive dancing, singing, and reading lessons prepared him quite nicely for his future as an actor, which led in turn to respectable roles in British TV productions. He gained particularly good reviews for his work in the BBC's staging of the American telefilm Requiem for a Heavyweight. Though his strictly supporting efforts in feature films were less distinguished, Connery diligently worked his way up from bit parts to more substantial secondary roles, earning his first big-screen assignment of any note in the 1958 Lana Turner film Another Time, Another Place.
---
Connery might have merrily continued on as a minor player if he hadn't beat out several name actors to originate the cinematic incarnation of novelist Ian Fleming's glossy superspy James Bond in 1962's Dr. No, the first feature in what would prove an indefatigable and immensely lucrative franchise in the decades to come. Producer Harry Saltzman awarded Connery the role of agent 007 on the basis of a single interview and after watching him walk down the street. (Incidentally, Connery has trained extensively in movement, and prepares for each role by working out how the character should move, which is perhaps why he is so dead-on in each of his widely differing roles.)
---
The former bodybuilder's rugged, disarming interpretation of the dapper and daring agent with a license to kill brought him almost instant international fame, and he would go on to reprise the characterization with clockwork regularity throughout the decade, in From Russia, With Love (1963), Goldfinger (1964), Thunderball (1965), and You Only Live Twice (1967). Connery became so dangerously identified with the star-making role that his up-coming performances in non-Bond films, while uniformly creditable, were not enthusiastically endorsed by fans or critics. Grown weary of his confining employment as James Bond, he agreed to perform his Bond duties one last time, in 1971's Diamonds Are Forever, only after demanding, and receiving, a then-unprecedented salary of $1.25 million plus a percentage and vowing that he would "never again" play the part.
---
Sprung from the trap the series had become, Connery sought to break out of his Bond typecasting by accepting roles in such diverse pictures as the science-fiction flick Zardoz (1974), Sidney Lumet's stylish adaptation of the Agatha Christie whodunnit Murder on the Orient Express (1974), John Huston's satisfying Rudyard Kipling adventure adaptation The Man Who Would Be King (1975), the medieval romance Robin and Marian (1976), and Peter Hyams' High Noon-esque sci-fi film Outland (1981). But just when it seemed Connery had entirely forsaken the British Secret Service, he resurfaced as a much wiser and appealingly more mature Bond in the prophetically named 1983 adventure Never Say Never Again. Though the film, which was a loose remake of 1965's Thunderball, was rather pedestrian, Connery proved more popular than ever in the role. In fact, Connery just seemed to be getting better and better with age, and despite graying, rapidly disappearing hair and widening girth, his appeal showed no signs of diminishing, a fact proven when People named the 60-year-old actor 1989's Sexiest Man Alive.
---
As he headed intrepidly into his senior years, Connery carved out a different kind of superstardom for himself, tackling character roles in films like 1987's The Untouchables (his portrait of a tough-as-nails Prohibition-era Irish cop in the film garnered him a Best Supporting Actor Oscar) and 1989's Indiana Jones and the Last Crusade, in which he played delightfully against type as Harrison Ford's irascible, tweedy archaeologist pop. More conventional leading roles in the 1990 adaptation of John Le Carrt's The Russia House (as a British publisher who becomes embroiled in a high-stakes international intrigue with Michelle Pfeiffer), 1990's The Hunt for Red October (as a Russian sub commander), and 1993's Rising Sun (as an expert in all things Japanese) kept his superstar patina buffed to high polish.
---
In the mid '90s, Connery divided his time between the middling medieval tales First Knight (1995) and Dragonheart (1996) and the more successful contemporary action dramas Just Cause (1995) and The Rock (1996). After a year's absence from theaters, he returned with a vengeance in the 1998 feature-film version of the '60s cult TV classic The Avengers, in which he appeared in an atypical capacity as the villain to Ralph Fiennes' natty agent Jonathan Steed and Uma Thurman's leather-clad amateur sleuth Emma Peel. In 1999, Connery starred in and produced Entrapment, a knotty love story-thriller, in which he played a cat burglar who teams up with a female thief (Catherine Zeta-Jones) for equal measures of bank-robbing and January-December-style romance. As for upcoming projects, he has signed a first-look, multi-year deal with Sony Pictures Entertainment under which he will produce and perhaps star in several films through his Fountainbridge Films production company. Also in various stages of development are sequels to some of Connery's most popular outings Time Bandits, Indiana Jones and the Last Crusade, and The Rock and it is even possible that he will make a return engagement as James Bond.
---
Just as his popularity shows no signs of abating, the very active Connery, now in his late sixties, continues to work as tirelessly as ever, much to the financial benefit of the Scottish National Theater, which the venerable actor supports with generous contributions from his leading-man salaries. His extreme nationalism has manifested itself in other ways: In the early '70s, he founded the Scottish International Education Trust, an organization dedicated to helping young Scots obtain an education; and though he resides primarily in Marbella, Spain, he remains active in the movement for Scottish independence, and, more recently, has been vocal in petitioning the Scottish government to issue a ban on all handguns. As for his personal life, Connery has been married to French-Moroccan painter Micheline Roquebrune since 1975. He has a son, actor Jason Connery, from his first marriage to Australian-born actress Diane Cilento.
---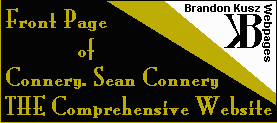 © Brandon Kusz Webpages 1999
All Rights Reserved