---
(October 1997) Ranked #14 in Empire (UK) magazine's "The Top 100 Movie Stars of All Time" list.

---
In 1953, he entered the Mr. Universe contest, finishing third in the tall man's division.

---
He was voted PEOPLE's "Sexiest Man Alive" in 1989.

---
Father of Jason Connery

---
Now resides in Spain. According to his friend, Michael Caine, he is a bit of a hypochondriac.

---
Sean Connery wears a toupee in all the James Bond movies. He started loosing his hair already at the age of 21. Privately and in most other movies, he wears none.

---
He has two small tattoos on his right arm. One says "Scotland forever", the other "Mum and Dad" He got them when he enlisted in the British Navy at the age of 16.

---
At the age of 19 he was a nude model for the Edinburgh Art College.

---
Took dancing lessons for 11 years. His teacher was the Swedish dancer Gert Malmgren. Thinks that the James Bond movies have stagnated and that Quentin Tarantino should direct the coming ones.

---
(1993) Had radiation therapy for an undisclosed throat ailment.

---
Donated his salary from Robin Hood: Prince of Thieves (1991) to charity.

---
Formerly worked as a coffin polisher

---
Brother of Neil Connery

---
Formerly worked as a Milk Delivery Man Major contributor to the Scottish Nationalist Party (SNP)

---
Salary
---
Playing by Heart (1998) $60,000

---
Robin Hood: Prince of Thieves (1991) $250,000

---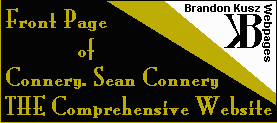 © Brandon Kusz Webpages 1999
All Rights Reserved